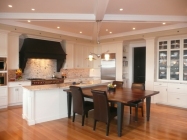 Kitchen & Bath Design
Kitchens and Bathrooms require more design than most other rooms in a house. Whether you are building a new house or simply want to update your kitchen or bath, HC Design is happy to help. Working with your ideas, images, storage needs, and the given space, we can create detail drawings of each room. We will provide several initial layout options for cabinets, appliances, plumbing fixtures, island and seating areas. These drawings can be used for quotes from Kitchen companies, or they can be further developed for custom cabinet makers. We are finding that custom designed kitchen cabinets, vanities and other storage areas can be competitive in price to high end stock cabinets, and can provide the client with exactly what they are looking for.
Execution of the interior plans and details is also a service offered. We provide a 'Shopping Service' for finish materials and details. Relationships with local showrooms and the Boston Design Center are sources that we provide to our clients. These shopping excursions usually focus on plumbing fixtures, lighting fixtures, tile, granite, designer furnishings, fabrics and materials or antiques. Clients will be charged on an hourly basis for this service. Our full design material discounts are offered to our clients. We have established a rapport with numerous local contractors, craftsman, cabinet makers, and artists, affording our clients the efficiencies of our experience. We're here to help you get it done right so you love your project.